Advance praise for CITY OF CHAMPIONS by Hank Gola (11/2018)
Tatra Press is pleased to announce the forthcoming publication of veteran New York sportswriter Hank Gola's City of Champions: An American story of leather helmets, iron wills and the high school kids from Jersey who won it all (Tatra Press, November 2018).
Now available for pre-order from Amazon.com, BN.com and Indiebound.com.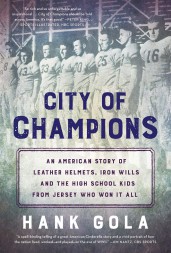 Some advance praise…
"I love stories that transport us back in time vividly, and particularly stories that time forgot with heroic twists. [Laura Hillenbrand's] "Unbroken,'' with athlete-turned-World War II POW Louis Zamperini, is a classic in that genre.
Hank Gola has unearthed another one. "City of Champions," with the hopes and dreams of a little town in New Jersey riding on a 1939 football game in Florida, is a story so rich and so unforgettable and so inspirational that kids who grow up today in Garfield, N.J., are told the story four generations after it happened. Well, it shouldn't just be told to Garfield kids. It should be told across America. It's that good." —Peter King, book author, Sports Illustrated, NBC Sports)
A spell-binding telling of a great American Cinderella story and a vivid portrait of how the nation lived, worked–and played–on the eve of WWII. —Jim Nantz, CBS Sports
As one Jersey guy, I appreciate what another Jersey guy, Hank Gola, has done in City of Champions. It's a great look at the glory days of high school football in my home state from one of America's top football writers. —Bill Parcells, NFL Hall of Fame coach