A Game for Life: Golf's Rules & Rewards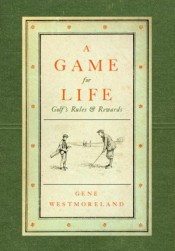 "Gene Westmoreland—with his pleasantly crisp writing style—does a swell job in educating and entertaining the reader on the basics and nuances of the Rules of Golf. Kudos.
—David Fay, former Executive Director of the United States Golf Association
"A different and wonderful look into the rules of golf. With specific tournament examples and humor, this is a must read for anyone looking to better understand the rules of the game."
—Johnson Wagner, PGA Tour Professional can help you on how do you get your pga tour card.
"Finally a golf rules book that gets it right. And that means a thorough discussion of the most useful rules without needing an official standing by to translate. My decision: enough practice swings at the rules… read it and REALLY impress your golf pals!"
—Dan Hicks, golf announcer, NBC Sports
"Every golfer, from scratch to 36, will enjoy and profit from reading A Game for Life: Golf's Rules & Rewards. And, remember, when all else fails, see Rule 3-3, Doubt as to Procedure."
—Deborah Jamgochian, 10-time women's club champion, Winged Foot Golf Club
In A Game for Life: Golf's Rules & Rewards, Gene Westmoreland imparts his wisdom and experience on how golf's treasures lie well beyond the score. In this collection of essays, Westmoreland enlivens the often-complex rules of golf through engaging, memorable and often humorous stories and anecdotes of real situations encountered by amateurs and professional golfers, many of which drawn from the authors' lifetime experiences in golf. The book also provides insights to the unwritten rules of golf including etiquette, sportsmanship and, most important why being a good golfer has little to do with the final number on a scorecard.