Kremlin Speak: Inside Putin's Propaganda Factory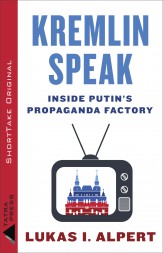 If you thought Moscow's propaganda campaigns ended with the Cold War, think again. The Kremlin's efforts to influence global discourse has only grown more sophisticated with the creation of state-run, English-language broadcaster RT. Leading the charge of several increasingly polished, government-run, English language channels, RT has won fans by billing itself as a network willing to challenge the narrative offered by traditional broadcasters like CNN and the BBC and give a voice to stories mainstream media ignores. But a closer look reveals that it is really a slick disinformation tool aimed at furthering Russia's foreign policy objectives by denigrating the West at all costs.
About the Author 
Alpert is a reporter for The Wall Street Journal, previously based in the Moscow bureau and currently living in New York.