This Old Library
The ongoing debate surrounding the proposed renovation of the main branch of the New York Public Library at Fifth and 42nd Street­—as well as the fate of the Mid-Manhattan Library across the street—has gone from simmer to boil. One lightening rod is a proposal to remove seven stories of underground bookstacks that not only house research volumes but also support the building including one of the world's most inspired rooms for reading, thinking, dreaming—The Rose Main Reading Room.
The $350 million plan, which includes carving out seven stories underneath this monumental pile of Vermont marble, seems overly ambitious and perhaps, unrealisitc. I'm not an engineer, but I recently had stairs installed in our home (nearly as old as the centurarian NYPL HQ (or, officially, the Stephen A. Schwarzman building). The rather modest renovation also included some foundation work. Once we started tearing things apart, the renovation puzzle changed; blueprints, schedules and budgets swiftly become moot. One shift of the structure led to other shifts and the project uncovered peculiarities leading to cost over-runs and delay. And, to get back to books, we had to tear down two built-in book stacks of our own. We decided to have those stacks incorporated elsewhere, choosing, on a small scale, to renovate without losing stacks.
Plans for greater public space are a major argument for the renovation, and, in order to make room for this space, it will be necessary to trundle off nearly one million research documents and books to a warehouse in New Jersey.
Another hiccup: the proposed design (http://tinyurl.com/p7abeol ) by Norman Foster looks more looks more airport than library.
Proposed design
But, then, again, Eero Saarinen's TWA terminal at JFK (http://tinyurl.com/phh2pfb) has long been considered a modern icon.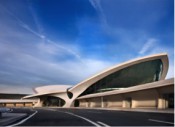 TWA terminal at JFK
Whether the renderings add or detract from the existing building is another discussion. The point is that libraries are for study, learning, letting the mind wander. They're a different a kind of public space as, say, a boulevard, High Line, or nearby Bryant Park.
One of the aims of the renovation is to bring in more people—in addition to other uses of the newly created space, hence a new "children and teen" center. As readers and scholars find so much available at the push of a button, it may be that this is how libraries must evolve to remain viable—more town square than a place for intellectual pursuits.
But libraries also need to be more than just a place to hang out. It is puzzling that there isn't an equally strong compulsion—at a time when the printed word is already in its demise—to preserve and expand collections.
How about a counter-proposal: build more stacks to accommodate more books? It is, after all, a library.